Sam is our youngest son, he as just turned 19, and as for the last 18month been working as a self employed Roofing Contractor. He tried a few jobs before this but did not settle... he seems to have took to this and the money he can earn very well.
He normally works on houses, so when he came home smiling a few weeks ago saying that he and his partner Dave had a church roof to do... we were a bit worried about the height. To be honest so was he. We all had no reason to be as within a day or two he was sat atop the ridge tiles taking pictures on his camera phone and enjoying in the views.
I have worked on roofs in the past and I was never to good with hights, but at least 'now a days' safety seems to be a concideration. There's scaffolding all around which is supposed to catch you in a fall... but I still do not think I would like to work up there. :O)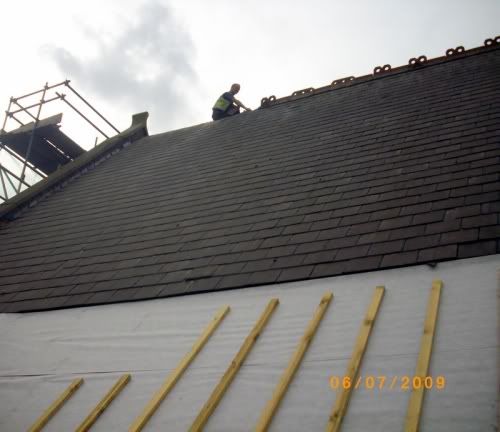 That's David up on the ridge, he as and still is showing Sam the tricks of the trade. David prefers working with slate, and using lead for the flashings. Lead work is a skill in itself and is something Sam is hoping to master.
I will be showing a bit more from this roof tomorrow, and wish to make it clear now that I did not take these pictures.. :O) all these are taken by Sam and David.