Chesterfield's Crooked Spire
.
.
The famous "Crooked Spire" in Chesterfield, which belongs to St Marys and All Saints Parish Church but everyone just refers to it as the Crooked Spire. The church may be the largest church in Derbyshire, and it may house several chapels and beautiful alabaster tombs. In fact it as a range of historic treasures to see and enjoy. It might have all that but the thing that as folks coming to see and marvel at is it's crooked spire.
.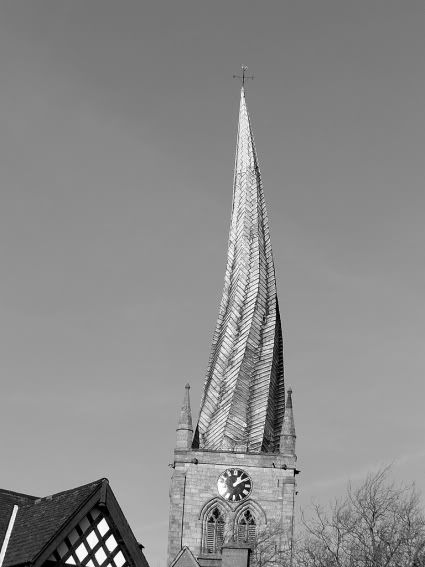 .
The spire wasn't always crooked. It started life straight and stayed that way for several centuries, before it started to twist this way. There's a few stories or more like local legends as to why it came to lean over 9.5ft to the south-west. One legend is the local blacksmith was asked to shoe the devil and because he was scared and nervous he drove a nail into the devils foot. At this the devil flew off in a rage and kicked out at the spire as he passed by.
.
.
Another story is told that the devil landed on the spire and sneezed violently when the smell of incense from the midnight mass reached his nose. The one that I like the best, and the one that is most unpopular in Chesterfield is that the spire inself turned around in utter amazement when a virgin was married in the church. ha!... no wonder the locals do not like that.
.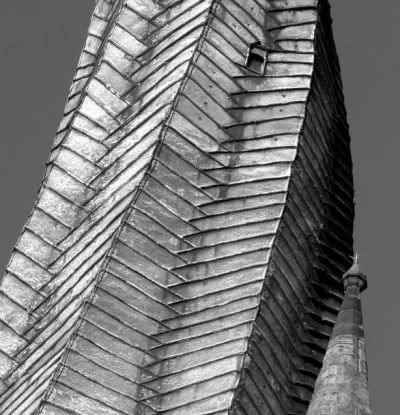 .
The most likely explanation though is a lack of skilled craftsmen caused by the Black Death in 1349, when the spire was being built. It is thought that unseasoned green timber, was used in parts, there seems to have been a lack of sturdy cross-bracing and of course the Church spire is topped off with over 32 tons of lead cladding.
This is my contribution for this weeks Sky Watch Friday to see more follow this links. :O)
Pictures taken by 'Big Pete'.. cheers mate.