.
I was sat watching the T.V. one teatime in June when the phone rang... it was my friend who informed me he had just driven by a Gypsy Caravan going through Hyde. I shouted Jane to get the camera and it was off trying to find it... which as you see we did. Luckily they had stopped to rest the horses and give them a drink.
.
I have always liked these since seeing them as a youngster, now adays they are rarely seen on our busy roads. I do have one friend who owns one which he uses at summer, and another that is being restored.
Gypsies have been using waggons like these for around 200 years in Britain, before these they would have simple carts to hold their goods and wares. At night the would sleep under them, or they would use Gypsy Tents known as 'Benders'.. these were made from the twigs and branches of trees such as Hazel... simple structures covered with a canvas.
.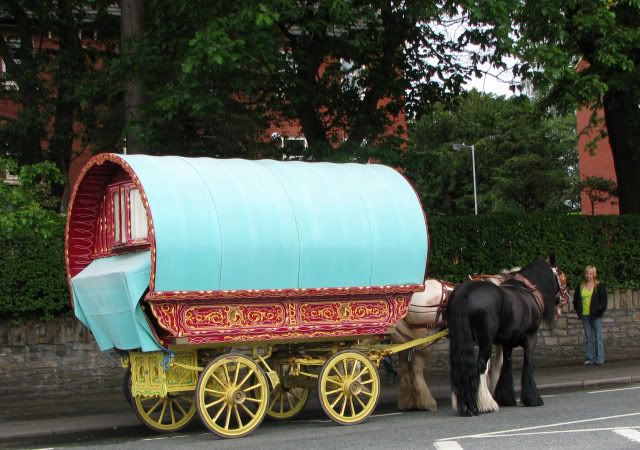 .
The true Gypsy name for these waggons are 'Vardo's' which is from an Iranian word... 'Vurdon'. These craftsman built waggons were the pride and joy of their owners. Most were bought from known Coach Builders. At one time newly weds would have theirs made before the wedding took place. Each one would take up to 12-14 months to be built, the preferred woods used were English Oak, Elm, Walnut, Ash and Pine.
.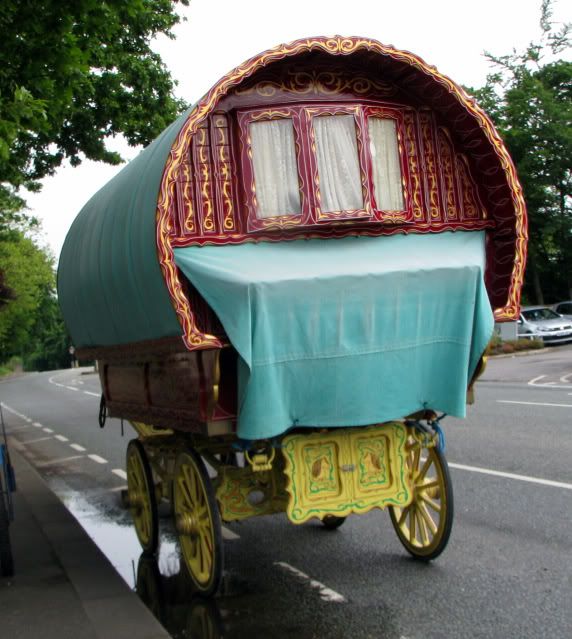 .
The skills of the Coach Builders were equaled by the artistic skills of the painter and decorates of that time... some of the more expensive ones would have designs picked out in Gold Leaf. There are a number of different designs for these waggons, and this one is known as an 'Openlot'... it is a basic 'Bowtop' design. A simple frame work was built, sometimes onto the bed of a flat bed waggon... this frame would then be covered with a canvas like this one. There is no door on these, apart from a canvas hung from the roof supports at the front.
.
.
The insides of Bowtops such as this are quite basic, compared to some of the others bigger roofed waggons. They have one area to live and sleep in, but the back as a raised double bunk for the adults and the children slept below this, or on the floor. The sleeping area would be covered by a curtain during the day. These Bowtops had a small stove known as a 'Queenie'.. it would only be use in bad weather as most of the cooking was done on a camp fire.

.
It is normal to have just one horse do all the work of pulling these, when a hill or long incline is met then a spare horse is added. These horses are sturdy bests of burden, most are over 14 hands high, and like every other working horse I've met have a good nature to them.
The sad thing about the Gypsy way of life was the belief that in death the owners were bound to their belongings.. and could not rest until they were burnt, buried or sunk to the bottom of the sea. For that reason many of these waggons were burnt along with other belongings.
I hope you have enjoyed this post as much as I have... These can now be hired for the week as holiday homes... now that would be nice .... if the weather was.