Corvus corone
While I was sat eating a snack I became aware of being watched from above... by this beauty of a Carrion Crow. These crows are large birds with glossy black feathers, thick blunt bills and a smooth plumage.
I shared a bit of bread with this one and it was happy to come quite close. They get their name from scavenging the carcases of dead animals. I see these on my travels quite a lot, picking at road kill.
These are very crafty birds, in the breeding season they will watch other birds building their nests and later raid the nests for eggs and chicks.
Jay
Garrulus glandarius
While I was breaking bread with the Crow it's more colourful cousin the Jay turned up nearby. They are mostly a pinkish brown bird, the underparts being slightly paler. The head has a black and white flecked crown, black moustache and white throat. A white rump which contrasts with the black tail. The iris of the eye is a pale blue, the bill is black and the legs are pinky brown. The wings are mostly black but have white patches and have striking blue patches, and close to these wing patches are beautiful bands of graduated shades of blue.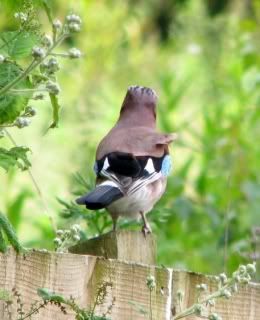 These are shy birds so I counted myself very lucky to have one so close by. Jays feed on acorns, beech mast, fruits, insects, small rodents, bats, newts, birds' eggs and young birds. I watched this one eat a snail after breaking the shell by bashing it on the ground.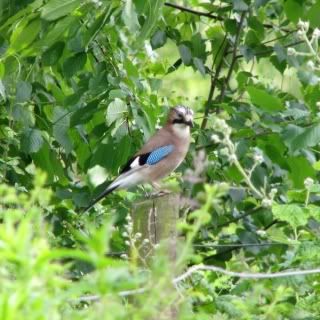 Jay's along with other crows are still persecuted by gamekeepers in its traditional habitat as it takes eggs and young from the nests of game birds. It was often sought out by fishermen who used its brightly coloured feathers for fly-fishing.
More from the area again tomorrow.. the more I visit this place the more I like it.