Ploughed Fields, Pylons and Hartshead Pike.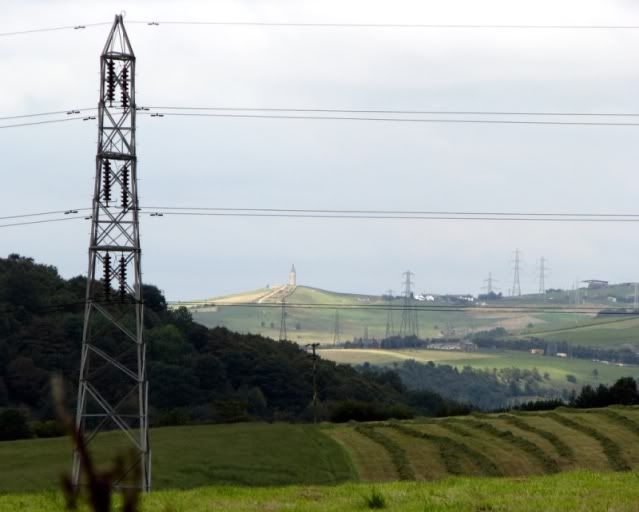 The ploughed fields and pylons speak for themself but Hartshead Pike on yonder hill warrents a few words...
The Pike is built on a beacon point for the local area and as such is visible for many miles around. Long before the Romans came stomping about our land, the local tribes would have lit fires here to celebrate the cycle of the seasons, there were many ancient sites close by, including a stone circle at Buckton Castle, once visible from the pike it is now sadly lost. It is highly probable that the druids worshiped at Hartshead Pike during the Iron Age, and sacrifices may have been held to appease their gods. In 1588 warning beacons like the one on Hartshead were lit all over the country to warn of the coming Spanish Armada.
The tower that can be seen there now is the third to be built in the area. The previous monument was rebuilt in 1758, but after developing a crack, it collapsed in 1820. A further forty three years passed before another attempt was made to rebuldit. The result is the Pike of today, which was built to commemorate the marriage of the Prince of Wales (later King Edward the Seventh) and Princess Alexandra of Denmark. The tower had to be paid for by public subscriptions and is three hundred metres above sea level. It was declared open in November 1928. Although now it is bricked up, it was once possible to inside the Pike for a small charge. Druids still worship and celebrate the summer solstice here.... and the last few years as seen many people gathering to watch the sunset. Click
Here
to see a short video of pictures taken at one such Summer Solstice.